High-Temperature Vacuum Drying Ovens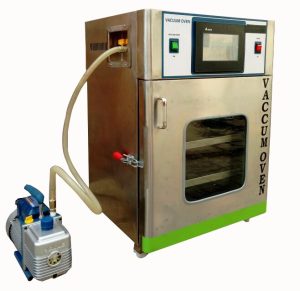 Laboteck is a company specializing in vacuum oven manufacturers who used high vacuum ovens technology for laboratories, industrial and research areas, selling products, services, integrated solutions, and providing technical assistance.
Laboteck is a leading provider of high-temperature vacuum ovens for inert atmospheres. The range includes an annealing furnace with high temperatures up to 2800 degrees Celsius (° C) that operates in high vacuum, ultra-high vacuum, and inert atmospheres, nitrogen, hydrogen, and reducing gases.
The Applications Of the Vacuum Oven Are:
Welding
Diffusion and bonding
Extensometry
Hot pressing
Extinction
Fusion
Sintering,
Crystal growth
Degassing
Glass processing
Heat treatment
These are products developed with the latest technology and according to the main requirements of biochemists, pharmacists, and scientists, such as micropipettes, photometers, laboratory centrifuges, microscopes, analytical scales, semi-analytical, and various other materials to perform experiments, calculations, biological or chemical measurements, and analysis.
The vacuum furnace is generally used for the sterilization, cooking, and drying of non-volatile materials and for heat treatment for mining companies, schools, and medical and scientific researchers. It is particularly useful for the simultaneous drying of small amounts of different polymer types used in trial molding processes. It is also used in areas such as electronics engineering, electrocoating, pharmaceuticals, paint baking, and printing for materials related to preheating or drying.
Function and Feature of Our Vacuum Oven:
Timer heating off
Alarm feature by heat buzzer
Temperature correction
Overheat shutdown
Adjustment of the heating power percentage
Precision temperature control with a resolution of 0…1 ° C
Digital direct reading display, easy to operate temperature control
Large transparent tempered glass, easy to observe the object
Material: Stainless steel
Suitable for drying of heat-sensitive samples and experiments under inert gas
Control system with programmable PID microprocessor
Digital display for temperature and time, easy to use control panel
Stainless steel cell which is resistant to contamination, much chemical vapor, and corrosion
One-piece silicone seal that can be easily mounted on the body
Manometer to observe pressure changes in the cell
Two ball valves for vacuum connection and the addition of dry air or inert gas
Heat-resistant observation window on the door
Specifications of Our Vacuum Ovens:
Silicone pressure seal provides excellent insulation in the box.
Glass fiber insulation contributes to effective thermal insulation and energy saving.
The heating plate mounted on all four sides of the box ensures temperature uniformity.
The temperature sensor ensures stable operation under certain vacuum conditions.
Technical Specification:
| | |
| --- | --- |
| Maximum Temperature | 200°C |
| Working Temperature | 150 °C |
| Temperature Fluctuation | + / – 1°C |
| Temperature controller | PID Controller or HMI Controller |
| Sensor type | PT100 |
| Doors | Solid Door |
| Heater | Kanthal plate & Wire Strip heater |
| Chamber Design | Rectangular or Cylindrical (Round) |
| Inner chamber | SS 304 |
| Exterior | Powder-coated galvanized steel/SS 304 |
| Insulation | Glass wool |
| Shelves | 1 or 2 |
| Ports | Vacuum port, Inert gas port, and Vent port |
| Safety Device | Overpressure limit / Overload breaker / Timer & Alarm, fuse |
| Vacuum Range | 760 mm Hg |
| Vacuum Control | Digital electronic vacuum control through solenoid valves |
Optional Accessories
Digital Vacuum Controller
Vacuum Pump
PLC with HMI
Outer SS 304 Construction
Data Logger
Rectangular Vacuum Oven Dimensions
| | | | |
| --- | --- | --- | --- |
| Model | Dimensions (W x H x D) | Dimensions (W x H x D) | Volume |
| VACUUS 8 | 8 x 8 x 8 Inch | 200 x 200 x 200 mm | 8 Liters |
| VACUUS 28 | 12 x 12 x 12 Inch | 300 x 300 x 300 mm | 28 Liters |
| VACUUS 45 | 14 x 14 x 14 Inch | 355 x 355 x 355 mm | 45 Liters |
| VACUUS 95 | 18 x 18 x 18 Inch | 455 x 455 x 455 mm | 95 Liters |
| VACUUS 127 | 18 x 18 x 24 Inch | 455 x 455 x 609 mm | 127 Liters |
| VACUUS 226 | 24 x 24 x 24 Inch | 609 x 609 x 609 mm | 226 Liters |
Our company provides a wide range of vacuum ovens to meet numerous needs that can complement each other in integrated solutions. We have accumulated rich experience and valuable technical support in the production of Vacuum ovens. Whenever and wherever, we never give up our goal, which is to provide high quality, competitive prices,s and the best service to our customers.
Laboteck came up with the purpose of providing excellent vacuum oven products, services, and after-sales to its customers. To this end, it represents the best international brands in their respective areas and has a professional sales and service structure, with trained technicians, equipped workshop and spare parts, ensuring quality and agility.
After vacuum oven supplier, in addition to warranty service, we offer preventive maintenance, installation monitoring, and training contracts.
Laboteck guarantees fast and safe delivery of the vacuum oven of your need, if you have any questions, please contact us!