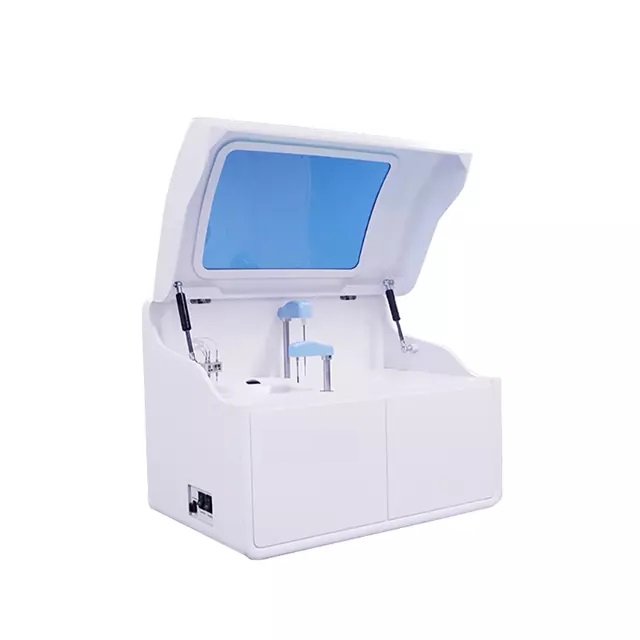 Fully Automatic Chemistry Analyser equipment used to carry out dry chemistry is extremely simple to use, minimizing operator intervention which will be limited to the simple insertion of patient data, the owner, and the dispensing of blood into the rotor. There will therefore be no need to carry out checks and calibrations as in liquid chemistry. From an economic point of view, it is suitable for medium-low workloads. Laboteck Fully Automatic Chemistry Analyser is a fully automated veterinary clinical chemistry analyzer. Use whole blood, serum, or plasma. It is easy to use and requires no special operational skills. The machine automatically centrifuges, mixes, and dilutes the samples. The report is available in several minutes. Only 3 simple steps are needed:
Dispense the sample into the rotor.
Enter the rotor and master data.
Read the result to quickly make a clinical decision
FULLY AUTOMATED URINE CHEMISTRY ANALYZER
The Fully Automated Urine Chemistry Analyzer, from Laboteck, is an automated urine chemistry analyzer, fast and reliable, using test strips and includes advanced technologies such as refractometer by flow chamber, which gives accurate results of specific gravity and opacity; and reflectance photometry with an intelligent CMOS (Metal Oxide Semiconductor Sensor) color sensor, whose optimized detection area automatically scans the pad position of each chemical strip providing greater precision.
The analysis of each reaction area of ​​the chemical strip is carried out with four wavelengths. Its configuration flexibility allows it to be used autonomously or integrated with a particle analyzer and other modules as part of a fully automated solution with a true, fast, and high-quality diagnosis, combined with a practical and aesthetic design and ease of use is capable of satisfying the most demanding customer.
CHEMISTRY ANALYZER FEATURES
System: Fully automated, random access, independent, emergency priority function (STAT).
Processing speed: 200 tests / hour, 540 tests / hour (with ISE electrolytes).
Optical system: Fully sealed, fixed matrix and spectrophotometry, 10 wavelengths to select (340nm, 405nm, 450nm, 492nm, 510nm, 546nm, 578nm, 630nm, 700nm, 800nm). Wavelength precision is ± 1 nm.
Results storage capacity: Storage according to the capacity of the computer.
Test methods: Colorimetric endpoint, speed (kinetic method), 2-point endpoint (2-point kinetic method), double wavelength, blank method (reagent blank, sample blank, and water white), immunoturbidimetry, double reagent, non-linear detection.,
Calibration method: Linear calibration (1 point, 2 points, and multipoint) and non-linear calibration. Multiple calibration formulas Logit-Log4P, Logit-Log5P and exponential function, spline, 5P exponential, parabola, Wei Bull, K-factor.
Reagent carousel: Refrigerated (2-8 ºC) with 60 positions for reagents
Reaction carousel: 120 fixed, self-cleaning reaction cuvettes.
Controlled temperature 37 ºC ± 0.1 ºC.
Flushing system: Unique flushing system for the aspiration needle and stirrer probe and eight-phase flushing system for reaction cuvettes.
Sample volume: 2μL to 100μL, variable in 0.1μL.
Reaction volume: 150μL ~ 900μL
Light source: Halogen lamp, 12V / 20W
Water consumption: ≤ 4L / H
Power: AC100V-240V, 50/60 Hz
Operating temperature: 10 ºC ~ 35 ºC, Relative humidity: 40 ºC ~ 85 ºC
WHY CHOOSE LABOTECK? 
Laboteck offers a fully automated chemistry analyzer product, its high performance, great work capacity, and excellent quality in the results obtained make this equipment unique in its field. Laboteck provides high-quality measurement, supervision, and regulation solutions and products in the area of ​​ laboratories, medical, education, and industries. People are our strength and the greatest value – both our employees and professional business partners, to whom we provide service and support at the highest possible level. We are convinced that joining it with full commitment is the condition for effective action. Today for us it is more than important to cover the needs demanded by our clients, who are increasingly professional and demanding. We make every effort to ensure that our products and information about them, as well as our committed employees, are available to our partners whenever the need arises.
Model
YS-600
Overall

Performance

Throughput
600Tests/hour
Analysis Method
End-point, Fixed-time, Rate, Two-point, Turbidimetry
Certification
CE, FDA, ISO9001, ISO14001, ISO13485

Sample & Reagent System

Sample Positions
90sample positions, built-in barcode system available
Reagent Positions
180refrigerated reagent positions(R1:45 & R2:45)
Sample Volume
2~70μl
Reagent Volume
20~350μl
Probe
Teflon coating ,with anti-collision function, liquid leveldetection function
Probe Washing
Automatic washing of interior and exterior
Reagent Cooling
Refrigerated tray with independent switch

Reaction System

Temperature Control
37±0.1℃, real-time monitoring
Cuvettes
120reusable cuvettes, optical length 6mm
Mixer Probe
Independent stirring
Washing
Automatic cuvettes washing
STAT function
YES
Optical System
Light Source
12V/30W halogen lamp
Spectrophotometry
Post-spectral spectrophotometry
Wavelength
340,405,450,510,546,578,630,700nm
Absorbance
0~3.0Abs
Calibration & QC
Calibration
1-point, 2-point and multipoint, factor, Spline Logit-4P, Logit-5P
Quality Control
Inserting quality control at random
Data Management
Software
Windows 7/8/10
LIS System
Available
Interface
LAN port access
Printer
External, multiple reporting modes are available
 Working Conditions
Power Supply
AC220V±10%,50/60Hz, 110V±10%,60Hz, 300W
Temperature
10~30℃
Water Consumption
Deionized water:15L/H
Humidity
30-80%
Size & Weight
External Size (W*D*H)
1167*780*1016mm
Net Weight
216kg
Package Size (W*D*H)
1348*928*1399mm
Gross Weight
290kg
Accessory Package Size
678*624*548mm
Accessory Gross Weight
70kg
Model
 YS-200
Overall

Performance

Throughput
200Tests/Hour
Analysis Method
End-point, Fixed-time, Rate (Kinetic), Turbidimetry
Certificates
CE, FDA, ISO9001, ISO14001, ISO13485
Sample & Reagent Unit
Sample Positions
 49 sample positions
Reagent Positions
 56 reagent positions
Sample Volume
 2~70μl
Reagent Volume
 20~350μl
Probe
 Teflon coating, within-collision function, liquid level detection function.
Probe washing
 Automatic washing of interior and exterior
Reagent Cooling
 Refrigerated tray with independent switch
Reaction System
Temperature Control
 37±0.1℃, real-time monitor
Cuvettes
 120 reusable cuvettes, optical length 6mm
Mixer Probe
 Independent stirring
Washing
 Automatic cuvettes washing
STAT function
YES
Optical System
Light Source
 12V/30W halogen lamp
Spectrophotometry
 Post-spectral spectrophotometry
Wavelength
 340,405,450,510,546,578,630,700nm
Absorbance
 0~3.0Abs
Calibration & QC
Calibration
Linear: K factor, 1-point, 2-point and multipoint linear

Non-Linear: Spline, Polygon, Index, Logarithm, Logit-4P, Logit-5P

Quality Control
 Real-time QC, Westgard multi rule, Cumulative sum check, Twin Plot(2D)
Data Management
Software
 Windows 7/8/10, LIS system available
LIS System
 Bi-direction, support HL7 protocol
Interface
 LAN port access
Printer
External, multiple reporting modes are available
Working Conditions
Power Supply
 AC220V±10%, 60/50Hz,, 110V±10%, 60Hz, 300W
Temperature
10~30℃
Water Consumption
Deionized water:5L/H
Humidity
30-80%
Size & Weight
External Size (W*D*H)
950*612*510mm
Net Weight
75kg
Package Size(W*D*H)
 1118*728*1151mm
Gross Weight
 130kg
| | |
| --- | --- |
| Model | YS-100vet |
| Sample Type | Whole blood, serum, plasma |
| Sample Volume | 100ul |
| Bar Code | Two-dimensional bar code |
| Testing Time | 12 minutes per sample |
| Reaction Temperature | 37℃±0.2℃ |
| QC & Calibration | Real-time full-automatic finish |
| Working Condition | Temperature: 10-32℃ Humidity: <90% |
| Light Source | 12V/20W, halogen lamp (average lifespan>2500 hours) |
| Input Voltage | AC100-240V, 50-60Hz (DC power supply optional) |
| Power Consumption | 70Watt |
| Display | 7 inches TFT touch screen |
| Storage | >100,000 results |
| Printer | 4 USB, 1 RS232 |
| Net Weight | 5KG |
| Dimensions (W*D*H) | 21*28*31cm |
| Package Size(W*D*H) | 35*28*40mm |
| Gross Weight | 6.5kg |
Model
Yatherm – Silver Plus
Reading Cuvette
Both through the cell and direct reading cuvette
Incubating Positions
20 incubation positions
Photometric System
Light source: 6V, 10W  halogen lamp
Filters: 340,405,492,510,546,578,620nm, 2 more open filter positions,

±2nm pass-hand

Wavelength accuracy:±2nm
Measuring System
Measuring range: 0~2.500 OD
Photometric linearity:±2% from 0 to 2.000 OD
Photometric accuracy:±2% from 0 to 2.001 OD
Drift<0.005 OD
Carry over≤1%
Incubator Temperature Control
RT+25℃, 30℃, 37℃
Precision: ±0.1℃
Display/Keyboard
Touch Screen
Printer
Built-in thermal printer
Interface
RS-232, USB
Power Supply
AC110/220V±10% 60/50Hz,
External Size (W*D*H)
340*380*180mm
Package Size (W*D*H)
575*490*350mm
Gross Weight
19Kg