PCR CABINET (POLYMERASE CHAIN REACTION CABINET)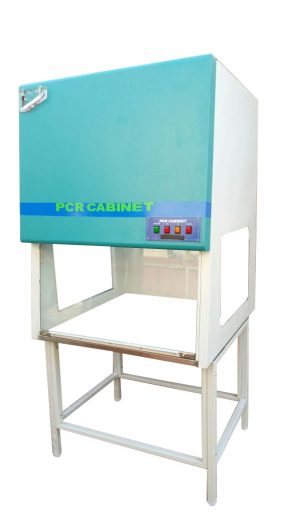 The PCR Cabinet and PCR (Polymerase Chain Reaction) Workstation with UV air re-circulator are instruments of chemical, biochemical and related laboratories that facilitate processes within them; providing excellent service to the user.
Made of cold-rolled steel with anti-bacterial powder coating; the PCR Cabinet instrument becomes very useful in laboratories. Although it retains the same principle as the previous one, this cabinet does have a HEPA filter that translates as a high-efficiency particle retainer. It has an effectiveness of 99.999% at 0.3μm. Another feature is the size and mode of being transportable with universal wheels with leveling feet. Finally, the interlocking function is that the UV lamp can only be turned on when the front window is closed ensuring operator safety.
Uses of the PCR Cabinet Workstation:
As the name implies, the main function is to guarantee a contamination-free space for PCR (Polymerase Chain Reaction) reactions. This technique is responsible for mimicking the natural ability of DNA; and since the interior of the station is free of nucleic acid, it reduces the risk of contamination. It also has use in molecular biology, DNA analysis, and molecular biology.
Standard Features of PCR Cabinet:
LED display.
UV sterilization system.
The efficiency of the 99.999% HEPA filter for 0.3-micron particles.
Disposable pre-cleaner.
Interlock function: the UV lamp can only be turned on when the front window is closed, which guarantees operator safety.
Built-in variable speed fan with motorized impeller and solid-state control rated for 5 amps.
Differential pressure gauge.
Air diffusor.
Deactivate nucleic acid in 5 to 30 minutes.
Doors with built-in safety switches.
Efficient decontamination of the work surface.
Operation of the PCR Cabinet Workstation:
Depending on the workstation model, the operation may vary slightly. In this case, the UV re-circulator consists of a UV lamp, dust filters, and a special box for maximum increase density. In turn, it provides aseptic conditions for a maximum of one hour; enough to perform the necessary operations. This is a bench table model; built with a metal frame and plexiglass. It also has a digital timer that controls the exposure of UV rays; this lamp has a capacity of 25W. On the other hand, the white light lamp provides lighting inside the enclosure (15W), ensuring a well-lit environment to have visual control of the operation.
Basic Care of the PCR Cabinet and Workstation:
In general, any of these two devices have a long service life, and maintenance is not translated as a very heavy task. However, it is important to keep in mind going to a professional whenever necessary. Some of the strengths of PCR Cabinet instruments are:
The workstation decontamination process is carried out by means of UV with high density and ozone-free; it has no HEPA filters.
These UV lamps have a long service life (Approximately 8,000 hours)
They do not produce noise, they have low energy consumption
Compact equipment, designed for personal or larger laboratories
| | |
| --- | --- |
| External dimensions (WXDXH)mm | Internal dimensions (WXDXH)mm |
| 730*617*950 | 630*538*550 |
| 1035*617*950 | 935*538*550 |
| 1340*617*950 | 1240*538*550 |
Customizable sizes are also available.
| | |
| --- | --- |
| Laminar Airflow Velocity | 0.275 – 0.325 m/s (54-64 fpm) |
| Sound Emission* | <63dB |
| Fluorescent Lamps Intensity | >800 Lux |
| Controller | Microprocessor control |
| Load | 1-3A |
| Nominal power | 136-260 W |
| Weight | 76.5-115 kg approx. |
Why Choose Laboteck PCR Cabinet?
In case of doubts about more specific characteristics of PCR Cabinet; you can contact us. We have designed innovative PCR Cabinets that move away from the existing ones in the market and that represent a new concept of laboratory material. The Laboteck PCR Cabinet combines the comfort of the work plane and curves that soften the environment and naturalize it. It is made in one body and with plug & play operation so that starting to work with it is a matter of minutes.