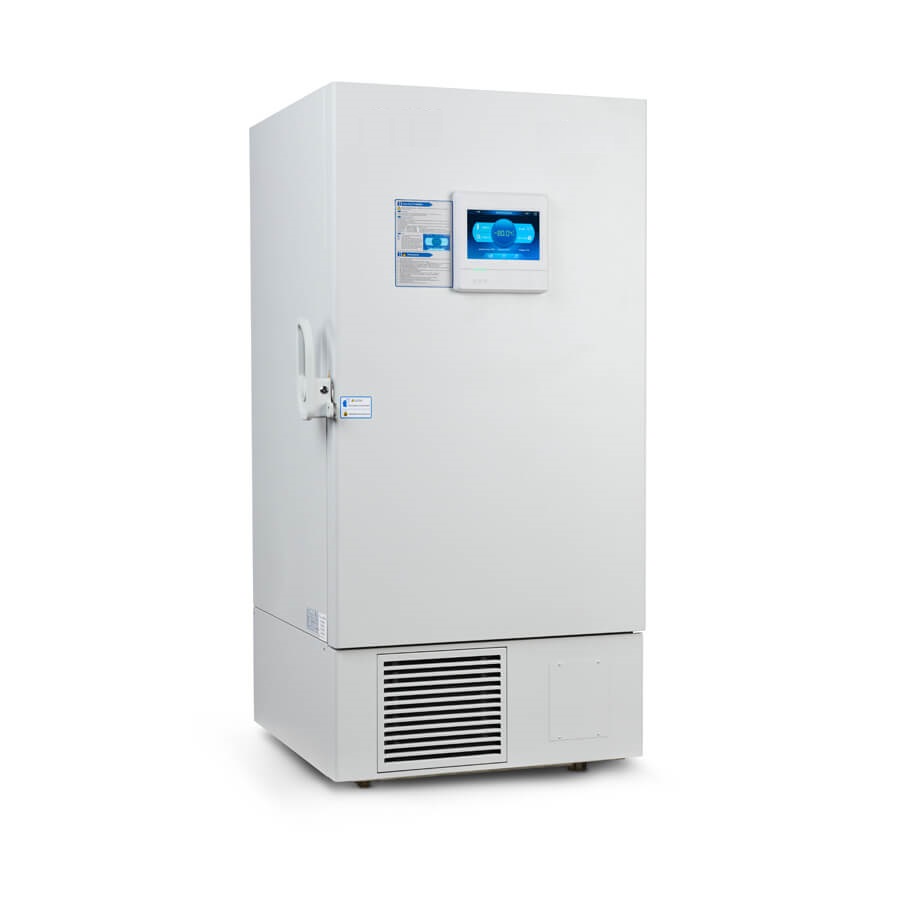 WHO USES IT?
Our ULT Freezer's(Ultra Low-Temperature Freezer ) range of sizes and cooling capacity are suitable for preserving tests and long-term storage. They are suitable for hospitals, blood banks, sanitation stations, vaccine, and anti-epidemic storage, electronic industries, research, and development laboratory, universities, military industries, military facilities, marine farming companies, metallurgical, automotive, and analysis laboratories, universities, and among others.
WHAT IS IT FOR?
Ultra Low-Temperature Freezer can be used to store and preserve vaccines, germs, viruses, blood plasma, sperm, blood, blood components, bone marrow, biological products, biological samples, tests and pelagic fishery products, and other medical & research institutes, chemical and military industries, electronics, pelagic fishing industries fishing and other areas. It is used for biological sample storage, storage, and retraction of metallurgical, automotive, spatial parts, etc.
ULT Freezer can be used in a wide variety of research and storage applications such as low-temperature scientific experiments, preservation of red and white blood cells, skin, DNA / RNA, bones, bacteria, semen, biomedical products, and marine products, and testing of special materials at low temperatures.
FEATURES OF ULTRA LOW-TEMPERATURE FREEZER:
ULT Freezer Temperature Range: From -20°c to -110 °C
ULT Freezer Size (Capacity) Range: From 50 L to 1000 L
Lowest energy consumption in its class
Powerful compressor cooling unit
LCD display with USB output and temperature data storage;
Internal alarm system
Internal data logger, measured values ​​can be read in open format via USB
Temperature microprocessor control system with digital display
Platinum resistance sensor generates greater precision and reliability in temperature control
System power failure warning with audible and visual indicators
Double insulation with polyurethane walls
Easy opening and closing of hinged doors
AT models also offer an automatic temperature storage mechanism and CO2 backup system
Electrical specifications: 220V 50 – 60Hz
Technical Specifications:-
Temperature range
Ambient to -80°C
Working Range
-40°C To -80 °C
Temperature Controlling
Microprocessor-based PID controller
Temperature Sensitivity
±0.1°C
Temperature Sensor
PT-100
Material of Construction
Inner
 Inner bath chamber and lid made of Stainless Steel (SS-304 grade)
Outer
The outer chamber is made of Mild Steel duly powder coated.
The gap of 75 mm between the outer and the inner wall is filled with special grade glass wool to prevent thermal losses
Cooling
An energy-efficient cooling unit is installed in our Deep Freezer. We use ISI-marked high-end CFC-free compressors of Kirloskar/Tecumseh make, conforming to the latest international standards and guidelines.
Door handle
Sleek handle for easy door opening.
PID Controller
Digital Controller with High & Low-temperature alarm.
Shelves
Closed Cabinet  for each shelf
Refrigerant
R134A Non-CFC & Mixed Gasses with cascade system
Power
220 V, Single phase, 50 Hz. AC supply
Model No.
Volume (Liters)
 Dimensions (WxDxH)
COOLEX 100UL
100 liters
Inner Dimension  – 18″x16″x24″

Outer Dimension — 31″x33″x58″

 COOLEX 200UL
200 liters
Inner Dimension  – 18″x20″x34″

Outer Dimension — 31″x36″x68″

 COOLEX 300UL
300 liters
Inner Dimension  – 22″x22″x38″

Outer Dimension — 35″x38″x72″

 COOLEX 400UL
400 liters
Inner Dimension – 24″x25″x40″

Outer Dimension — 37″x41″x74″

 COOLEX 500UL
500 liters
Inner Dimension  – 26″x28″x42″

Outer Dimension — 39″x44″x76″

 COOLEX 600UL
600 liters
Inner Dimension  – 28″x28″x44″

Outer Dimension — 41″x44″x79″
BENEFITS OF ULTRA LOW-TEMPERATURE FREEZER:
Low noise technology and low energy consumption
Better thermal door design to ensure temperature control and save energy
The interior doors decrease the loss of cold air and improve temperature recovery after opening the door
Choice of standard or high-performance modes offering significant energy savings
Refrigeration system with less environmental impact as it reduces up to 45% of the energy consumed in addition to reducing by more than 50% the heat emission
User-friendly interface that shows: Alarm, door opening, temperature mapping, data logging, freezer conditions, and status of the backup system
Construction of sturdy cold-rolled steel cabinets with an electrostatic powder paint finish, resistant to scraping and rusting
Efficient thermal insulation with vacuum insulation panels
Rust-proof interior made entirely of stainless steel
Performance monitoring and maintenance needs on the screen itself
WHY CHOOSE & BUY LABOTECK'S ULT FREEZER?
Laboteck is a trusted provider of analytical and biochemical equipment and accessories for ​​biology, chemistry, biological analysis laboratories, research laboratory, development institutes, pharmaceutical, metallurgical companies, and impact testing laboratories and industries. To bring comfort and practicality, Laboteck brings the ultra Low freezers, which can be equipped with stands, drawers, and stainless steel tube racks, leaving the work in the laboratory organized, practical, fast, and clean. We also provide customized sizes of ULT Freezer with tailor-made additional features according to your specific needs.