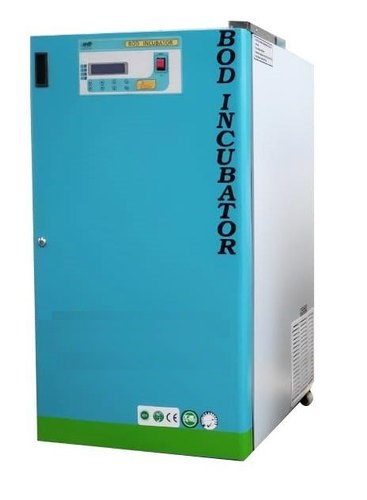 Biochemical Oxygen Demand(BOD)Incubator
The BOD Incubator is originally designed to incubate long-term tests of BOD (Biochemical Oxygen Demand) or BOD (Bio-Oxygen Demand). Due to its reliability and flexibility today it is used in the most diverse applications: plant growth, germination, incubation of biological cultures, BOD, storage of reagents and etc.
BOD – Biochemical Oxygen Demand – is a standard test and should be performed at a constant temperature, for a fixed incubation period. Initially, a duplicate sample is collected, in one of them the Dissolved Oxygen is measured after collection and in another, the oxygen is measured after some time. This difference in oxygen concentration represents the Biochemical Oxygen Demand. When the water has a lot of organic matter and microorganisms
BOD INCUBATOR FEATURES
Cabinet built in steel with anticorrosive treatment and electrostatic painting, mounted on leveling feet;
Internal chamber built in molded thermoplastic;
2 wire-type shelves made of steel with anti-corrosion treatment and electrostatic painting;
Thermal insulation (including on the door) with high density expanded polyurethane;
Heating system through resistance built in stainless steel, armored and finned;
Refrigeration through an ecological system free of CFC and with sealed unit;
Forced air circulation through silent fans and free from vibrations;
Digital temperature controller, with digital indication, microprocessor, PID, with adjustable temperature, Set Point and auto tuning for PID parameters;
Temperature sensor, encapsulated in stainless steel;
Sample safety system against overheating using a thermostat;
Equipment security system against overheating of the cooling system;
Upper front panel with temperature controller, main switch and LEDs with indication of heating and cooling;
Soft-touch keyboard;
Environmentally friendly cooling system;
Thermal insulation with low temperature dissipation and door built with magnetic sealing with high sealing power;
Temperature control;
Flexibility in sizes (in liters) ;
Exclusive security system that allows you to program access control according to the type of user;
Software that offers better interactivity with the user;
Biochemical Oxygen Demand and as its name suggests, this equipment is used to control the oxygen consumed by microorganisms while acting on the deterioration of matter. The BOD Incubator is developed for laboratories that need control of the incubation temperature, control of water quality in relation to oxygen, pollution levels and improvement of biology studies on insects, among others. BOD incubator developed for laboratories or demands that require exact temperature control for incubation works, determination of the level of pollution, efficiency of treatment systems, studies of insect biology, among the more varied applications.
WAYS OF USE
Tests of influence of environmental effects;
Incubation of flasks to determine BOD / BOD (biological / biochemical oxygen demand);
Incubation of samples in general;
Accelerated stability tests for short, medium and long-term medicines and cosmetics;
Durability and premature aging tests on food (shelf life), plants, seeds, canned goods, packaging, etc;
Preservation of medicines and samples in general;
Durability testing of integrated circuits and others in the electronics industry;
Culture of cells, tissues, bacteria / bacteriological culture;
Early seed aging;
Seed vigor tests;
Refrigeration of seeds;
And other applications.
TECHNICAL SPECIFICATIONS
| | |
| --- | --- |
| Temperature Range | 4°C to 70°C |
| Temperature Accuracy | ± 0.2°C |
| Temperature Uniformity | ± 1°C |
| Temperature sensor | PT-100 |
| Temperature Controller | Digital PID controller with SV & PV |
| Insulation | PUF Insulation |
| Inner Chamber Construction | SS 304 |
| Outer Body | GI powder Coated |
| Door | Insulated Door With Glass Window |
| Shelves | Removable Perforated SS trays |
| Interior illumination | White LED Light |
| Heating Element | U shape Air heaters with circulation Fan |
| Cooling System | HCFC/CFC Free Compressor |
| Safety | Temperature High / Low alarm |
| Power supply | 220 Volts +/- 10% at 50 Hz frequency |
Dimension Matrix
| | | | |
| --- | --- | --- | --- |
| Model | Dimensions (w x D x H) | Volume | No. of Trays |
| BOD 120 | 450 x 450 x 600 mm | 120 | 2 |
| BOD 216 | 600 x 600 x 600 mm | 216 | 2 |
| BOD 320 | 600 x 600 x 900 mm | 320 | 3 |
| BOD 450 | 600 x 600 x 1250 mm | 450 | 4 |
| BOD 600 | 600 x 800 x 1250 mm | 600 | 5 |
| BOD 800 | 800 x 800 x 1250 mm | 800 | 5 |
| BOD 1000 | 800 x 800 x 1550 mm | 1000 | 5 |
WHY CHOOSE BOD INCUBATOR FROM LABOTECK?
Laboteck provide high quality BOD Incubator equipment and products for the analysis of water, soils, effluents, medical, laboratories and biogas. Laboteck provides full support in the after-sales service, with total assistance for the customer to make the most of the kits, product and equipment purchased. Laboteck objective is to develop and commercialize quality analysis technologies for sanitation and aquaculture production laboratories.