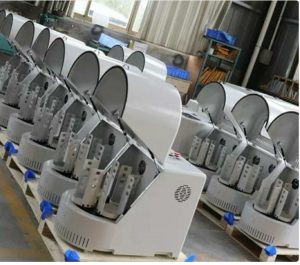 The work carried out within the laboratory and production environment needs the support of a diversity of products, materials, accessories, and laboratory and industrial equipment. Planetary ball mills are responsible for the material grinding and micron size mixing process, but each has specific characteristics, and therefore, they apply to different purposes. The planetary ball mill is equipment designed with a high technological standard that makes it possible to automate grinding processes and optimize the productivity index, including repeating exact results. It is the ideal equipment for grinding dry and/or wet, hard, medium hardness, soft, fibrous, brittle, and wet samples and also for mechanical alloys, mixing and homogenizing large quantities of samples with reliable results. With an automatic system, the planetary ball mill is totally safe due to the technology employed and the exclusive locking mechanism of the grinding vessels.
Planetary ball mills are used whenever it is necessary to obtain maximum fineness. In addition to the classic mixing and size reduction processes, the mills also meet all the technical requirements for colloidal grinding and provide sufficient energy for the mechanical preparation processes of mechanical alloys. The extremely high centrifugal forces of planetary mills result in extremely high spray energy and, therefore, short grinding times. at Laboteck, vertical and horizontal planetary ball mills can be found in different capacities and options ranging from 2 liters to 16 liters for laboratory use and 20 to 100 liters for production use.
TECHNICAL ASPECTS OF PLANETARY BALL MILL
The planetary ball mill is a high-energy type mill that can be manufactured in several models for laboratory and production uses, in order to meet the specifications of certain applications. In general terms, its use is restricted to the work of reducing the sample size in milling processes. To achieve this reduction, the planetary ball mill performs a combination of high-energy impact and friction effects of the spheres on the samples within the grinding vessel.
SPECIFICATIONS & FEATURES:
Types: Vertical and Horizontal
Volume: 2 to 16 Liters (For Laboratory Use) & 20 to 100 Liters (For Production Use)
Speed (Fast Grinding): Up to 670 RPM
Power Supply: 220 Volts 50Hz
Feed: Soft & Crispy Material ≤ 10mm & Other Hard Materials ≤ 3mm
Granularity: Minimum <1 µm (Depending On Material)
Time: 1-9999 Min
of Jar: 4 (Grinding or Mill Jars Available)
Up to 4 Grinding Stations Simultaneously
Sample Type: Hard, Soft, Fibrous, and Brittle.
Powerful and Fast Grinding
Automatic Ventilation System for the Grinding Chamber
Diversity of Materials: Stainless Steel, Agate, Zirconium Oxide (Zirconia), Tungsten, & Synthesized Aluminum Oxide (Alumina)
Variety of Accessories Available
High Safety Performance
AREAS OF APPLICATION:
Agriculture,
Pharmaceutical,
Chemistry,
Environment,
Geology,
Ceramics
APPLICATION EXAMPLES: 
Metal oxides, compound fertilizer, garbage samples, bentonite, hair, limestone, active carbon, catalysts, kaolin, cellulose, ceramics, cement clinker, coal, concrete, coke, slag, fibers, carbon fibers, plaster, hydroxyapatite, alloys, effluent sludge, wood, iron ore, ores, minerals, clay minerals, bones, paper, plant parts, pigments, polymers, chemicals, quartz, seeds, semi-precious stones, soil, electronic scrap, tobacco, fabrics, paints and varnishes, glass and more.
WHY CHOOSE PLANETARY BALL MILL FROM LABOTECK? 
With extensive expertise in measuring instruments and laboratory equipment associated with the latest technological innovations and the highest standard of quality and reliability of results, Laboteck offers high precision solutions that reveal the latest trends in the technological market. In addition to providing technical assistance for all equipment. If you are looking for a high-performance Planetary Ball Mill at a competitive price, you can find it on the website of Laboteck.com, list products with our professionals, and get to know the best reference in quality in the Indian market today. We encourage you to contact us to discuss your requirements. We are looking forward to the dialogue with you! Make your free quote right now!