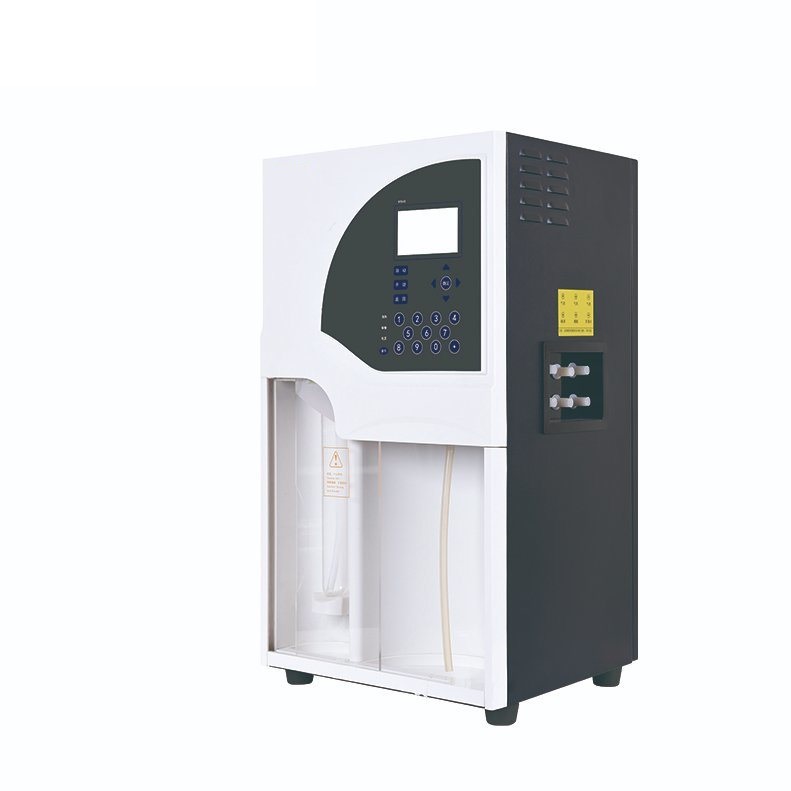 Digest Furnace Kjeldahl Apparatus Nitrogen Analyzer for nitrogen determination according to the conventional method according to Kjeldahl. Automatic Kjeldahl Nitrogen Analyzer systems are incorporated in a single set. Fully automatic Kjeldahl distiller with On Line titration system, in real time. For systematic analyzes, of great precision, with minimum personal intervention, simple and safe. Suitable for a laboratory with a medium to large sample volume.
The Kjeldahl Pro Nitro A distiller, titrates the distillate at the same time that it is obtained, because the distillation and titration is converted into a single operation, drastically shortening the time for analyzes performed. This type of titration offers another additional advantage: it detects the point at which the sample no longer gives off Nitrogen, this property is used to stop the distillation at an appropriate time, thus ensuring that the distillation time is always optimal to obtain a maximum Nitrogen recovery and does not prolong distillation any longer than necessary.
The Digest Furnace Kjeldahl Apparatus digestion system is a basic digestion unit with a fully automated tube rack ensuring safety, ease and flexibility in Kjeldahl analyzes. Communicable with PC, enabling traceability at all times. The complete Auto system ensures fully automated lifting without the need for user handling.
Safe, easy-to-handle operations, saving chemicals and reagents, space, time and energy. Fully compatible with gas washing system avoiding the release of nitrogen and toxic gases in your workplace. In addition to having a range of accessories and consumables from Laboteck of high quality and immediate delivery.
Included own software to help control automation, keeping your routines all programmed and controlled correctly. The software can be adapted according to the user for each application. In addition to having the support of Laboteck locally in case of doubts or additional needs. Laboteck catalyst inserts are highly recognized in the market, with several formulations in order to serve the customer in the method that best fits for digesting your raw material.
TECHNICAL INFORMATION
Built in epoxy coated steel plate;
Heating batteries for digestion and distillation for 6 simultaneous tests in each one;
Heating systems through quality wire resistors;
Support platform for balloons made in refractory;
Maximum temperature in the heating element;
Individual electronic temperature control with reference between points 1 and 10;
Cooling through stainless steel condenser tubes with electrostatic painting;
Extractor hood manufactured with material resistant to sulfuric acid;
Engine assembled in order to be isolated from aggressive gases;
Gas collector tube in PVC reinforced with stainless steel, adjustable in height;
Supplied without glassware;
Double insulated power cable without plug;
The Automatic Kjeldahl Nitrogen Analyzer is isolated, minimizing heat transfer to the external environment and allowing rapid heating in a safe and economical way. When used with the Scrubber (gas scrubber), communication can be done automatically or programmed through the device's display. Scrubber receives gases from acid digestion, condensing and then purging. All waste is collected, washed and neutralized before going through the second purge system, protecting the vacuum pump, increasing the useful life of the equipment itself.
WHY CHOOSE LABOTECK?
Laboteck specializes in the trade of Automatic Kjeldahl Nitrogen Analyzer, laboratory equipment, glassware, thermometers, porcelain and other products. We work with excellent brands, always aiming for quality in the products offered and the satisfaction of our "client", reason for the existence of our company.
Model
YSKN-984
YSKN-110F
YSKN-986
Water Consumption
1.5L/Min
Ambient Temperature
5~40℃
Ambient Humidity
80%
Measure Range
0.1mg~200mg
Analysis Time
5~10min
Recovery Ratio
≥99.5%
Sample Amount
Solid ≤6g;

Liquid ≤16ml

Solid ≤ 5g;

Liquid ≤20ml

Burette Accuracy
/
1.0μL/ step
2μL/ step
Reproducibility
/
±0.5%
±0.5%
Consumption
2000W
Power Supply
AC110/220 V ±10%,60/50Hz
Packing size(W*D*H)
655*528*880mm
Main body:585*525*900mm

Accessories:605*600*355mm

Main body:585*525*905mm

Accessories:600*600*360mm

Gross weight
45Kg
Main body:52.7kg,

Accessories:12.5kg

 Main body:50.3Kg,

Accessories:13.4kg
| | | | |
| --- | --- | --- | --- |
| Functions List | YSKN-984 | YSKN-110F | YSKN-986 |
| Variable Steam Generator | ● | ● | ● |
| Cooling Water Pressure Monitor | ● | ● | ● |
| Cooling Water Temperature Monitor | | ● | ● |
| Automatic Alkali Solution Adding | ● | ● | ● |
| Automatic Dilute Water | ● | ● | ● |
| Auto Solution Adding | ● | ● | ● |
| Tube Emptying | ● | ● | ● |
| Removable Drain Tray | ● | ● | ● |
| Safety Door | ● | ● | ● |
| Tube on Position Sensor | ● | ● | |
| Tube Replacement Sensor | ● | ● | |
| Colorimetric Titration Device | | ● | ● |
| Result Calculation | | ● | ● |
| Result and Data Storing | | ● | ● |
| Built-in Printer | | ● | |
| Automatic fault detection function | ● | ● | ● |
| Titration While Distillation | | ● | |
Model
YSKN-987
YSKN-987A
Working Process
Adding quantitative sample dilution, alkali liquor and absorption liquid;

Automatically finishing distillation, titration, print and liquid-discharging.

Measurement Range
0.1~240mgN
Sample Amount
Solid<6g; liquid<16ml
Measurement Time
4~6 minutes
Titration Precision
0.75μL/step
Requirement of Cooling Water
<18℃
Cooling Water Consumption
1.5L/min (Distillation process)
Titration Solution Concentration
Direct titration samples with 4 titration concentrations of 0.1mol,0.5 mol and 1 mol
Titration System
High-precision plunger type titration system
High-precision peristaltic titration system
Repeatability
±0.5%
Recovery Ratio
≥99.5%
Data Storage
140,000 groups
Consumption
2000W
Power Supply
AC220V, 50/60Hz
Packing Size(W*D*H)
510*460*710mm
Gross Weight
36.4Kg
39.8Kg