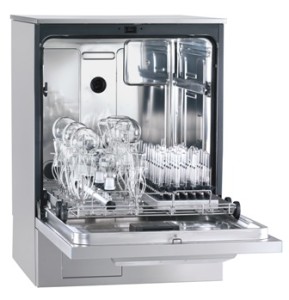 Lab glassware disinfector Washer is manufactured according to the technical specifications established by the latest technology, following the guidelines of the International Quality Standards. The Laboteck Lab Glassware Cleaning Machine is an automated, micro-processed unit for cleaning, washing, thermal and/or chemical disinfection, and drying of surgical instruments, vats, trays, laboratory glassware, and breathing and anesthesia tubes.
Laboteck Laboratory Glassware Washers have several models that meet any type/volume of cleaning and washing, occupying little space and with great cost-benefit. Some of the most significant characteristics of these washers are the large production capacity occupying little external space, ergonomics, ease of handling, control, and registration through industrial microprocessors, and the vertical washing and cleaning pump system.
LAB GLASSWARE CLEANING MACHINE KEY FEATURES:
Automated unit for washing, disinfection, and drying term labware, glassware, and various materials, micro-processed, programmable, built-in stainless steel, and brand models.
LABORATORY GLASSWARE CLEANING MACHINE CHARACTERISTICS:
Construction in stainless steel – high strength and precision;
High-capacity pumps provide powerful and economical cleaning and washing, with controlled pressure to prevent breakage of glassware, which attests to the quality and reliability of products;
Time and money savings – washers consume about 30% less water than the competition and washing and drying cycles are up to 35% faster;
Individual pumps for cleaning, dispensing, draining, and valve and filter systems guarantee a safe and efficient cleaning/washing, without risks of cross-contamination and effluent reflux;
Integrated vapor condensation system – prevents the release of vapors and odors into the laboratory environment and speeds up the drying process of the glassware;
Security system with double temperature sensor, dispensing sensors, water inlet, speed of the rotating arms, condensation and flood prevention system – total control and security of the cleaning cycle, with error messages on the display;
New washing module system – even more flexible than the previous generation;
Possibility of rinsing the material with distilled/deionized water;
Water heating up to 5x faster than the competition, up to 93 ° C;
Integrated water softening system;
Models of laboratory washing and disinfecting machine available with active drying up to 115 ° C, with HEPA filter at the air inlet;
Pass-through models available, ideal for clean rooms;
High versatility – several types of baskets, supports, and accessories available;
Models with the possibility of free installation or under the bench;
Laboteck Labware Cleaning Machine is designed to work over 15,000 hours without maintenance on pumps and mechanical parts;
WHY CHOOSE LABOTECK?
Laboteck Lab Glassware Disinfector Washers are considered a world reference in the cleaning, washing, and disinfection of glassware and laboratory materials. With several years' experience in the distribution of laboratory equipment. All Labware Cleaning Machine Washers have stainless steel cleaning/washing chambers. The equipment is completely configurable, with accessories for washing Becker, Erlenmeyer flasks, pipettes, beakers, everything for testing, volumetric flask, etc. Laboteck, a branded firm has professionals with several years of expertise in the field of laboratories, education, medical-hospital, and pharmaceutical industries solutions in equipment derived from the latest technology and brand products with its high quality, high durability, and low maintenance products.
Model
YSK-LW120
YSK-LW220
YSK-LW320
YSK-LW420
Capacity
120L
220L
320L
420L
Water Consumption/Cycle
15L
25L
Inlet Water Pressure
0.03~0.8Mpa
Noise
≤50dB
≤55dB
Material
Internal Material: SS316, Outer material: SS304
Overall Power Consumption
6KW
6.5/16.5KW
6.5/18KW
18kW
Power Consumption-Water Washing
0.75KW
1.5 KW
2.8KW
Power Consumption-Water Heating
5KW
5/15KW
15KW
Power Consumption-Drying
2.1 KW
3.6KW
Power Supply
AC220V, 50Hz
AC220V, 50Hz; 380V, 50Hz
380V, 50Hz
Cleaning Racks
1 pcs
2 pcs
3 pcs
2 pcs
Standard Cleaning Racks
BKIR36*1
BKIR36*2
BKIR36*3
BKIR36*2
Standard Accessories
One bucket RBS A 155 leaner (1 L), One bucket RBS A 375 neutralizer (1 L)
Optional Accessories
USB interface, printer, Cleaning racks
Cleaning racks
Washer Chamber Size(W*D*H) mm
600*629*465
600*629*658
600*629*820
688*700*703
External Size(W*D*H) mm
960*740*850
780*690*1760
790*690*1950
1100*900*2165
Package Size(W*D*H) mm
1100*950*1050
1000*850*2100
1000*840*2180
1270*1025*2240
Gross Weight(kg)
145
330
350
400