WHAT IS SIEVE SHAKER?
Sieve shakers is a motorized (electromagnetic) separator, capable of separating up to 6 full-height screens. With two and three-dimensional vibration for maximum performance and complete separation in laboratory and industry. Its sieve separating machines are suitable for various sectors, including food and beverage, chemical, pharmaceutical, paints and coatings, metal powder, recycling and more. It is made of durable and soundproof material. The device is time adjusted.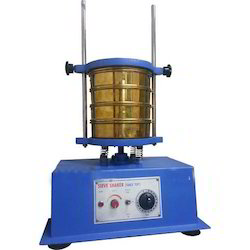 TYPE OF SIEVE SHAKER?
• Wet Sieve Shaker
• Gyratory Sieve Shaker
• Rotap Sieve Shaker
WET SIEVE SHAKER:
With variety of Test Sieve Shakers (Agitators) for dry or wet sieving it is possible to separate materials, which can be sieved, into individual fractions, obtaining reproducible results in a short time. As main features, wet test sieve shakers have self-adjusting amplitude, circular mechanics and manual sieving beats. Wet Sieve Shakers are renowned for their precision, durability and stability.
GYRATORY SIEVE SHAKER:
The Gyratory Sieve Shaker (gyratory motorized) is a gyratory motion equipment designed to classify and separate the product flow according to granulomere. The unclassified product (different granulomere) enters, passes through the sieve where the product is swirled and the smaller grains pass through the screen, leaving the central outlet, while larger grains are directed to the main outlet thus separating them. Recommended products: grains in general, stones and ores in general; non-corrosive products of varying granulometry (for use with corrosive products, please consult the technical team for the use of resistant material).

ROTAP SIEVE SHAKER:
Rotop Sieve shaker is an electric two-dimensional vibration (horizontal circular motion and a vertical topping motion) separator. The Rotop Sieve Shaker equipment produces orbital movements and through a blow on the top of the set of sieves, produces vertical oscillation. Rotatap Type Sieve Shaker is a device designed with the aim of effective sieving with 200 mm (8 ") diameter sieves. Easily fixable screen fixing cover on the screens placed in the device.

WHERE TO BUY & TO KNOW MORE ABOUT SIEVE SHAKER?
Laboteck is a leading and most trusted brand to offer wide range of test sieve separators to suit all industries and applications, with optional add-ons for seamless implementation in existing production facilities. Wet or dry, thin or thick, with customized solution for your separation needs. You can visit laboteck.com to contact Laboteck's expert team to know more about wet, gyratory or rotop Sieve Shakers. You can buy high quality sieve shakers for your laboratory and industry need.