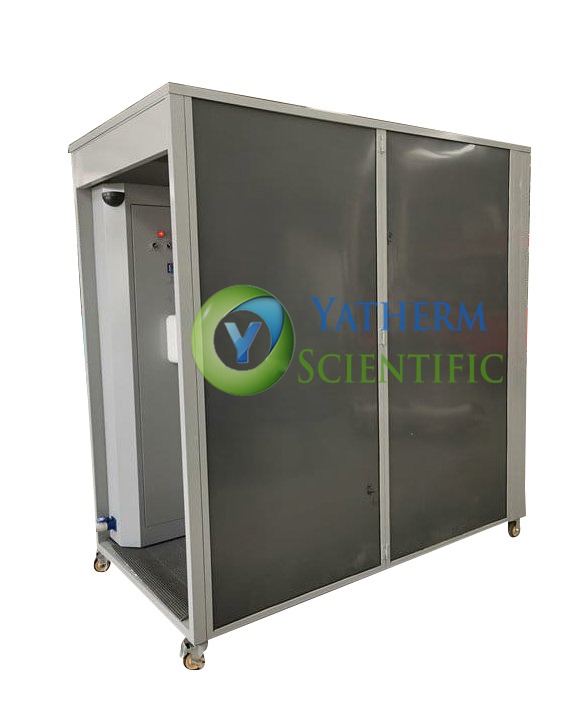 We are living in difficult times as peoples/employees/staff of hospitals, organization, public sector firm or entrepreneurs or business owners on any scale. But it is not time to give up discouraged by the situation, rather, it is the right time to seek new goals and do everything to achieve them. With Covid-19 as part of our daily routine, prevention is vital if we want our activities to be impacted as little as possible. For this reason, at Laboteck we have added to our product "Sanitation Tunnel".
SANITATION TUNNEL: AS PART OF PREVENTIVE MEASURES TO AVOID COVID-19 INFECTIONS
 Sanitation tunnels are really effective against COVID19. Disinfection/Sanitation consists of killing organisms such as germs, viruses and fungi on the surfaces, it is generally done through the use of products that kill organisms and prevent them from multiplying and transmitting. The proper process to kill viruses and bacteria including COVID-19 (coronavirus) that threaten health is disinfection, which can be accomplished using the product we suggest using the Laboteck Sanitation Tunnel/Disinfectant Booth to safe from COVID 19.
ADVANTAGES AND FEATURES OF SANITATION TUNNEL:
With the disinfection process at the entrances to the facilities, the entire body surface is disinfected to obtain maximum hygiene and prevent from COVID-19 (coronavirus).
Economical application is provided by ergonomically designed so that it can create a very easy line with multi-functional and different modules.
It is developed with advanced technology and provides hygiene and prevent from COVID-19 in accordance with all necessary quality standards and analyzes.
In the sanitation tunnel systems installed in the interior area, the cabin direction changes according to the area where the installation is drawn.
Sanitation tunnel/disinfectant booth should be used, which is not harmful to human health.
In sanitation tunnel, high quality high-pressure pump with ceramic piston and long life is used.
WHAT SOLUTION IS USED TO DISINFECT?
The product sprayed on people to disinfect them is CHLORINE DIOXIDE. It is a golden liquid sanitizer that has no residual power. It is an inactivated product with high oxidizing power, whose base ingredient is chlorine dioxide. Specially formulated to act as a germicide, bactericide and algicide.
Leaves no odor or residue on sanitized surfaces and equipment.
Contains 10% free chlorine.
Useful in disinfecting plastic and glass containers.
Excellent results in disinfection by circulation or recirculation in pipes and equipment.
Laboteck sanitation tunnels and disinfectant systems are designed to provide robust, practical and versatile solutions to safe from COVID-19 (coronavirus), germs, fungi and other viruses. It is easy to transport, setup, dismantling and functionality for multiple disinfection applications with national and international regulations and standards. If you have any questions about how to safe COVID 19 with Sanitation Tunnel, need more technical or usage specifications, do not hesitate to contact us (laboteck.com), we will gladly answer your messages. There is much we can do to control this pandemic!
Read More:  Biosafety Cabinet