B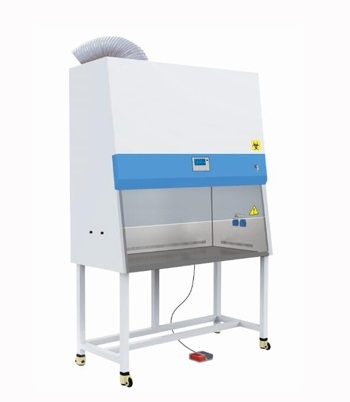 iosafety cabinets are enclosed from five sides of cabinets which are used when working with material that can be contaminated by coming in contact with pathogens that makes it necessary to in a particular biosafety environment. These biosafety cabinets are used while working in laboratories on certain kinds of experiments or with certain kinds of chemicals that can potentially get contaminated without a certain level of biosafety.
How does it work?
Biosafety cabinets are designed to specifically save the user from all kinds of biological hazards that can occur due to contamination of air.
These cabinets work with HEPA (High-efficiency particulate air) to protect inside the cabinet catching any contamination the air that comes inside the cabinet is filtered and prefiltered before entering the cabinet. Which makes the whole cabinets air purified and sterilized so, that it does not disturb the environment that is inside the cabinet.
Reasons to use biosafety cabinets
The main reason to work under a certain level of biosafety is to protect the user or surrounding environment to prevent from getting contaminated from the pathogen.
Not just the person working in the laboratory but also the experiment or chemical he is working with get very quickly contaminated just by coming in contact with the pathogen.
Laboratories need to have certain areas or spaces of which the environment is completely sterilized so that the product kept inside stays safe.
It's not just laboratories that use biosafety cabinets, there are various other places too which highly require biosafety cabinets along with hospitals and certain kind medical research institutions.
Air purification is extremely necessary for certain experiments to be conducted, it plays a crucial role in not altering the results of the whole research because even a very slight amount of contaminated air can alter the results of whole experiments in certain cases that require purified and sterilized environment.
Classes of the biosafety cabinet
By the U.S Centre for disease control and prevention, these cabinets are classified into three classes, which are classified based on personal and environmental protection provided and the level of product protection provide-
Class-I
It provided personal and environmental protection but not product protection; in fact, there was a high probability of samples getting contaminated. And biosafety cabinets of these classes were either ducted or inducted which weren't helping in keeping the samples decontaminated or sterilize.
Class-II
These cabinets can provide both kinds of protection personal environmental and as well as product, that's why these cabinets are most prominently used cabinets because it helps in keeping the samples also protected from the pathogen.
These are divided further into five types which are- A1, A2, B1, B2, and C1. Each type was defined by NSF international according to requirement.
Class-III
These kinds of cabinets are not that much used on smaller levels instead they are used where the air is highly contaminated and they have to deal with pathogen-4, these cabinets also provide protection personal environmental and products both. These cabinets are used at places where there is very great need and use bio safety cabinets.